PREFACE: A BRIEF HISTORY OF AMBO UNIVERSITY
Ambo University is located in Ambo, the capital of West Shewa Zone of Oromia Regional State. With a population of about hundred thousand, Ambo is situated only 114 km west of Addis Ababa, and it is known for its ideal weather for living. Like many parts of Ethiopia, Ambo has four seasons: spring, winter, summer and autumn. With an altitude of 2,100 m above sea level, average annual temperature of 18.9 °C and total annual rainfall of 1,120 mm, Ambo is suitable for growing different kinds of crops. Also, Ambo is known for its abundant natural beauties and famously therapeutic hot springs. Ambo Mineral Water and Ambo Granite, commonly known as'Ambo Stone' (which is very much known for its beauty and strength for house building), are the few 'ambassadors' of the town. These natural beauties are believed to have made Ambo as a choice for establishing one of the earliest higher learning institutions in the history of Ethiopian education.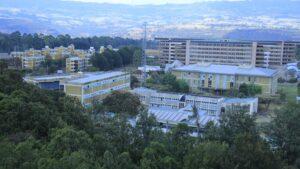 Ambo University, established in 1939 EC, is one of the oldest higher learning institutions in Ethiopia. Though it was originally a school, over the long years of its existence, the institution has experienced different levels of development. 1924 EC (1931) was a period when The Imperial Government of Ethiopia was determined to expand schools in the major provinces amongst which Ambo was one. Accordingly, basic education was started to be offered in a few buildings built by French engineers. Subjects taught were Amharic, Mathematics, French, etc., and they were given by four Ethiopian and four French teachers.
After a few years elapsed with this situation, Fascist Italy invaded Ethiopia in 1928 EC (1935) which disrupted education and normal life in the country resulting in the closure of all schools. Ambo's school remained closed during the invasion between 1928 and 1933 EC (1935-1940). Meanwhile, the Italian invaders used the school's buildings as administrative offices, residence and prison. However, they have also built some more buildings for this purpose.
In the period following the end of Italian invasion in 1933 EC (1940), the Ethiopian Government quickly began restoring schools all over the country, and Ambo's school became operational. In the subsequent years, when agricultural development programs began, the Government decided to move the school elsewhere and started agricultural education in its premises; and thus Ambo. School of Agriculture, the first ever agricultural school in Ethiopia, was established in 1939 EC (1946) with one /Swedish/ director and four /German/ teachers. The courses offered at the time were Animal Science, Crop Production, Agricultural Engineering, Mathematics, and English. This went on well until 1944 EC (1951) when the teachers began leaving the school that forced a brief closure of the school between 1944 and 1945 EC (1951-1952). This was a period that saw Germans dispersed over the world as a result of the Second World War. Some German migrants also came to Ethiopia amongst whom the Ethiopian Government recruited those qualified to teach agriculture on a contractual basis and made Ambo school to be reopened with a new organization. Students being admitted were required to pass the 8th grade national examination and attend their study from 9 to 12 in the school, upon completing which they were awarded Diploma in Agriculture.
In 1951 EC (1958) the school was renamed as Ambo Agriculture and Forestry Secondary School with the addition of Forestry Department which also ran a 4 year program with its own director and three PhD holding teachers. As of 1952 EC (1959) Ethiopian professionals began assuming management positions. Although five other British teachers were serving between 1960 and 1966 EC (1967-1973), teaching posts continued to be filled by Ethiopian professionals who later fully replaced the expatriates.
In 1960 EC (1967) the school was promoted to the level of 'institute' and named as AmboInstitute of Agriculture and started to offer a two-year post-secondary diploma courses in General Agriculture. Only students who passed the 12th grade matriculation were admitted to the program. The institute was again closed briefly for two years, between 1967 and 1968 EC (1974-1975), because of the so called "Development through Cooperation Educational and Work Campaign" ordered by the then Military Government.
In 1969 EC (1974) the institute was granted a Junior College status and named as Ambo Junior College of Agriculture with an added objective of research and extension apart from teaching. Its administration came under the newly established Commission for Higher Education established to administer all higher learning institutions in the country. The curriculum was also revised to harmonize it with other junior colleges running similar two-year post-secondary diploma programs in General Agriculture. In the subsequent years, the College strengthened itself in academic staff and resources. Consequently, the College launched a continuing education program in 1973 EC (1980) and continuously started to quench the local community's long years of thirst and desire for higher education. As a result, it is hardly possible to see a household in Ambo and the surrounding community who hasn't tasted the fruits of the institution.
In 1980 E.C (1987) some pedagogical courses were added to the existing curriculum and aTeacher Education option was added to train agricultural teachers. The training lasted for about ten years until when training agricultural teachers was terminated in 1990 (1997).
In 1984 E.C (1992) the "junior" status was shed off, and the institution was named Ambo College of Agriculture with almost no change in its mission. 1989 EC (1997) was a time of reflection for the College /and its community/ as it celebrated its golden jubilee – a time when students and staff of the College across the decades met and shared a common memory. Notable among the guests present on the occasion were the Swedish first director of Ambo School of Agriculture, Dr. Carl Klasson (Director in 1939 EC (1946)) and Professor Desta Hamito(former student of the College and formerly President of Haramaya University.)
In 1995 E.C (2002), the number of academic programs of the College begun to increase with the addition of two more diploma programs in Chemistry and Biology Laboratory Technology. A new chapter in the history of the institution was registered in 1996 EC (2003) as this was the time when the institution started to offer undergraduate degree programs in the fields of Crop Production, Animal Production, Applied Chemistry, Applied Biology and Cooperatives. In the meantime, the college was affiliated to Jimma University by the name Jimma University – Ambo College. In the following years, the College showed remarkable growth both in intake capacity and the number of programs it offers. Subsequently by 2006, the college opened 15 undergraduate and 2 postgraduate programs in various fields of natural and social sciences.
After long years of hurdles, which were at times frustrating, a generation old institution registered a magnificent history on Megabit 3, 2000 E.C (12 March, 2008). In recognition of its past achievements and future potentials, the Government of the Federal Democratic Republic of Ethiopia promoted the College to the status of an autonomous University College. Energized by the promotion, the name 'Ambo University College' lasted only for a year. In 2009, an 'old baby' was born: Ambo University. Nonetheless, the 'old baby' is still young and growing fast. Presently the University runs 51 graduate and 85 undergraduate programs which are divided into nine colleges/institutes/schools and 82 academic departments. Besides its main campus at Ambo, the University also has three campuses – Awaro, Guder and Woliso. In the years to come, the University has the vision of becoming one of the most prestigious universities in the country excelling in academics, research and community service giving its utmost attention to quality education.
---
 Overview Contact Information
 Main Campus
+251-11-23-62-017
+251-11-23-62-017
+251-11-23-62-017
Website: www.ambou.edu.et
e-mail: info@ambou.edu.et