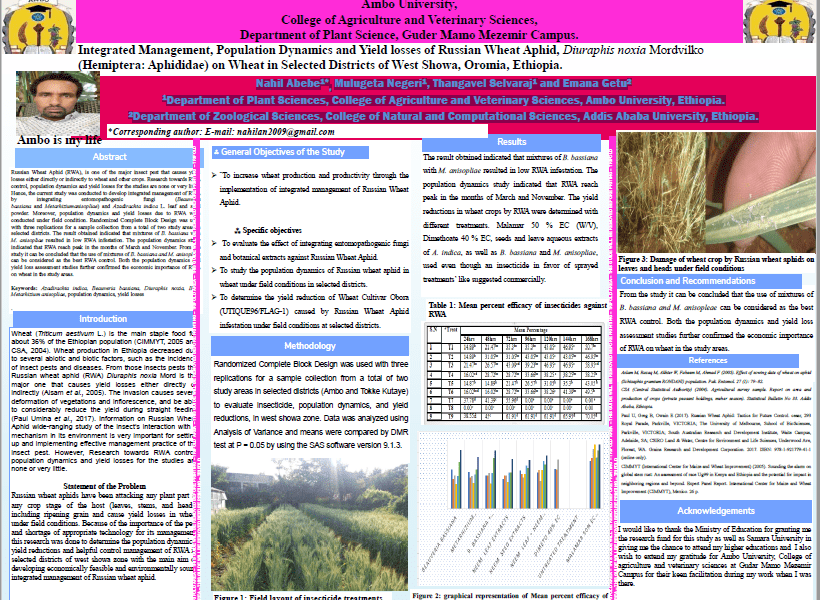 October 21, 2028 - 15:30
Perth, Australia
PhD Dissertation Defense using Office 365
---
Integrated Management, Population Dynamics and Yield losses of Russian Wheat Aphid, Diuraphis noxia Mordvilko (Hemiptera: Aphididae) on Wheat in Selected Districts of West Showa, Oromia, Ethiopia.
Russian Wheat Aphid (RWA), is one of the major insect pest that causes yield losses either directly or indirectly to wheat and other crops. Research towards RWA control, population dynamics and yield losses for the studies are none or very little. Hence, the current study was conducted to develop integrated management of RWA by integrating entomopathogenic fungi (Beauveria bassiana and Metarhiziumanisopliae) and Azadirachta indica L. leaf and seed powder. Moreover, population dynamics and yield losses due to RWA were conducted under field condition. Randomized Complete Block Design was used with three replications for a sample collection from a total of two study areas in selected districts. The result obtained indicated that mixtures of B. bassiana with M. anisopliae resulted in low RWA infestation. The population dynamics study indicated that RWA reach peak in the months of March and November. From the study it can be concluded that the use of mixtures of B. bassiana and M. anisopleae can be considered as the best RWA control. Both the population dynamics and yield loss assessment studies further confirmed the economic importance of RWA on wheat in the study areas.
By: Nahil Abebe 1* Mulugeta Negeri 1 , Thangavel Selvaraj 1 and Emana Getu 2 1Department of Plant Sciences, College of Agriculture and Veterinary Sciences, Ambo University, Ethiopia. 2Department of Zoological Sciences, College of Natural and Computational Sciences, Addis Ababa University, Ethiopia.
Modified By: Ambo University, 2020-06-22
EVENT INFO :
Start Date:

October 21, 2028

Start Time:

15:30

End Date:

October 21, 2028

End Time:

20:30

Number of Participants:

200

Location:

Perth, Australia

Website:

http://example.com/